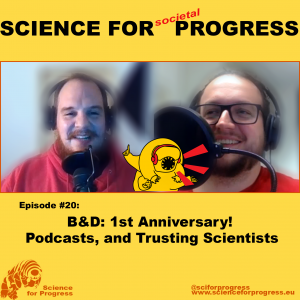 This episode of Bart and Dennis Talk is actually our first anniversary episode! While Science for Progress was founded in July 2017, the podcast went online on February 20th 2018!
Announcement
At the beginning of the episode I announce that I will be on the Twitter "rotating curation account" @RecovingAcad, which belongs to the Recovering Academic Podcast. We had a crossover episode with them, last November. I will be tweeting about leaving academia and transitioning into industry from February 25th to March 2nd.

On March 3rd I will do a live video AMA on the account @theaddictivebrain on Instagram. Addictive Brain is a science communication project that was initiated by Chinmaya Sadangi, who was curator on our twitter rotating curation account @sfprocur. My AMA on Instagram starts at 3 p.m. UTC and will take about an hour.
Anniversary!
(more…)