Podcast: Play in new window | Download (Duration: 48:51 — 36.0MB)
Subscribe: Google Podcasts | RSS | More
In 2017, Hugo Bettencourt was finalist of the Portuguese section of the science communication competition 'FameLab', and appeared at the Noite Europeia dos Investigadores 2017. Here, he talks about this experience.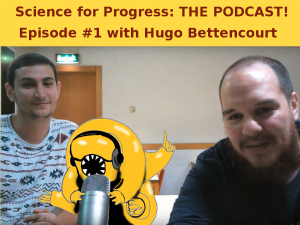 FameLab is an international science communication competition initiated by the British Council. Hugo explains the application process, and what is expected from the presentations. He also shares some of what he learned in the special science communication workshop for finalists. At the end he had a great experience and made some friends. And it even got him some additional gigs as a science communicator.
background
Born and raised in Lisbon, Hugo Bettencourt studies biomedical engineering. Currently he is working on his MSc thesis in neuroscience at the Champalimaud Foundation. It is very important to him to participate in the complete scientific process. Too often, he says, engineers in science only get to do data analysis. He is not yet clear about his career goals. But he already knows science communication should be a part of it.
As a member of Science for Progress, Hugo wants to take the part of a liaison; the contact address for the people and groups we interact with. His major concern is that too many people feel intimidated by science and keep their distance. To get the public in touch with science, Hugo wants to raise awareness for the importance of science in society. In particular it is important to provide the tools necessary to understand and interpret scientific facts. By communicating the scientific principles, he hopes to help people profit of scientific thinking both in their personal lives, and at the voting ballot.