Podcast: Play in new window | Download (Duration: 49:09 — 22.5MB)
Subscribe: Google Podcasts | RSS | More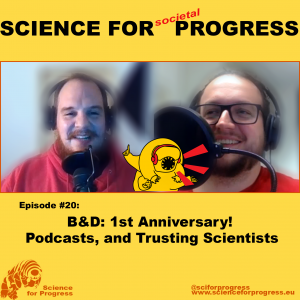 This episode of Bart and Dennis Talk is actually our first anniversary episode! While Science for Progress was founded in July 2017, the podcast went online on February 20th 2018!
Announcement
At the beginning of the episode I announce that I will be on the Twitter "rotating curation account" @RecovingAcad, which belongs to the Recovering Academic Podcast. We had a crossover episode with them, last November. I will be tweeting about leaving academia and transitioning into industry from February 25th to March 2nd.

On March 3rd I will do a live video AMA on the account @theaddictivebrain on Instagram. Addictive Brain is a science communication project that was initiated by Chinmaya Sadangi, who was curator on our twitter rotating curation account @sfprocur. My AMA on Instagram starts at 3 p.m. UTC and will take about an hour.
Anniversary!
At this time we have had 20 episodes, 10 of which were from the phase when I did an episode every three weeks. But since we started doing the B&D episodes, we're publishing an episode every other week.

I hope you agree that the production quality has increased. I am still working on improving my editing skills but I think that is also becoming better. Compared to the early episodes we went from one hour to 30 minutes, which I think is better. We also went from a conversation style to a narrative style in our interviews.

I would be very interested to and to know what you think about that! Do you prefer the heavily edited version where I try to make everything more clear, or do you prefer to listen to a more natural conversation?

I personally think that every episode has actually pretty good content, but the journal impact factor episode with Björn Brembs is a clear winner when it comes to downloads. In terms of content for the future I will continue to do episodes on Academia, topics of general interest like the GMO episode, and science communication.

We then looked at some data from the paper on science communication podcast by Lewis MacKenzie. He looked at a number of science podcasts. I am not sure whether our podcast really fits in the study, because it doesn't fit the criteria 100%. But still we compared our outcomes with those described in the paper.

It turns out we are above average dedicated to this podcast! The median lifespan of independent (not affiliated to an institute or company) science podcast is just 16 episodes. I am happy to see that we did beat that already in the first year! The median survival rate of podcast that are affiliated with a company or an Institute of some sort, is 24 episodes, and I've already recorded our episodes 21 and 23, episodes 25 and 27 are in planning (update: actually, by the time this episode is published, I already recorded episode 25, too).
Podcast Preview
On March 3rd there will be an episode on alternative metrics, with Steffen Lemke. These "Altmetrics" are supposed to complement citation based metrics such as the journal impact factor or the H-index. I talked with Steffen about the advantages and disadvantages of these metrics.

On March 31st there will be an episode called "Sleep Faster" with Lars Dittrich. Until recently, Lars studied sleep, and we talked about whether it is a good idea to try shave off a few hours of sleep every night in order to get more productive hours during the day.

On April 28th there will be an episode about the Pint of Science with Elodie Chabrol. Pint of Science is a science communication event that happens once a year and has grown massively over the last six years.

And finally on May 26th there will be an episode called "Energiewende" with Tanja Kneiske. Tanja works for the Fraunhofer Institute on smart power distribution systems. We will talk about the German transition out of fossil fuels and nuclear power, the efforts to replace them completely with renewable energy.

He Jiankui
The Chinese researcher who created the first genetically edited babies, He Jiankui, is being punished by the Chinese Government. We had been asking ourselves whether this experiment was illegal in China. It turns out it absolutely is. At the same time Stanford University has begun an investigation following claims that some of its staff had known about the Chinese scientist and his plans to create the world's first Gene edited babies.
Trust in Science
We then talk a little bit about a survey done in Germany, Switzerland and Sweden on whether people trust in science and/or whether they trust in scientists.

They asked about a thousand people each and they found a clear ambivalence of people towards science and the application of research. They distrusted the scientists' motives more than they distrusted science itself. Between 50 and 60% of respondents say that they rather or completely trust science, which is pretty much chance.

The amount of education a person has, has a positive effect. People with more education are more likely to trust in science, however this effect is very small. In Germany 76% say that there is a problem with a conflict of interest, and only 17% say that they will trust scientists on GMOs. In general, affiliation matters. In Sweden and Switzerland they found that people trust academics more than they trust industry researchers.

Do you have questions, comments or suggestion? Email info@scienceforprogress.eu, write us on facebook or twitter, or leave us a video message on Skype for dennis.eckmeier.
sources:
• Dr Lewis E. MacKenzie's Blog
• Science podcasts: analysis of global production and output from 2004 to 2018
• Dr Lewis E. MacKenzie on Twitter
• Rogue Chinese scientist to be punished for creation of first gene-edited humans
• Stanford investigates links to scientist in baby gene-editing scandal
• TRUSTING SCIENCE IN AN AGE OF DISTRUST