Podcast: Play in new window | Download (Duration: 31:17 — 15.2MB)
Subscribe: Google Podcasts | RSS | More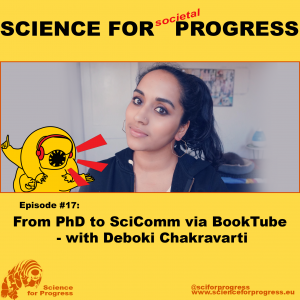 Science Communication is one way academics can apply themselves outside of academia. But how does one transition between careers? I talked with Dr. Deboki Chakravarti, a biomedical engineer who worked on cancer treatments. She graduated in 2018 and then did an internship with Scientific American, a leading brand in Science Communication in the USA.
First we learn a little bit about her scientific work, and her personal experiences in graduate school. Already during graduate school she began a YouTube channel about books and life as a graduate student. She then shares why she decided to leave academia, and she explains how she managed to find an internship with Scientific American. And finally, she explains what the internship looks like.


Using the Immune System to Fight Cancer
Dr. Deboki Chakravarti worked on ways to increase the control practitioners have over so called "CAR t-cells". T-cells are immune cells that use receptor molecules to detect specific proteins on the surface of unwanted cells. CAR stands for "chimeric antigen receptors", receptor molecules that were designed by scientists to recognize specific cells. When scientists equip t-cells with these special "CAR" molecules, they can detect cancer cells.
Specifically engineered immune cells are necessary, because the patient's immune system has a hard time recognizing cancer cells. This is because cancer grows out of the patient's own body cells and tumors carry much of the same markers as healthy body cells.
PhD and "BookTube" Channel "okidokiboki"
Deboki uses her YouTube Channel to talk about books, but also about her experience as a PhD student. The friends Deboki made in grad school have been some of the most supportive people she met. She experienced grad school as very isolating experience, and she realized that her friends felt the same way. Sharing their feelings and experiences helped Deboki and her friends deal with the stress in graduate school.
On YouTube Deboki realized that the people who followed her for her book reviews, also became interested in her personal life. So, when she began to add videos talking about her PhD experience, these were greeted with interest, too. And other PhDs and PhD students related greatly with these videos.
Leaving Academia
Deboki comes from a family of academics and going to some kind of extra school after college seemed the normal thing to do. She also wanted to do research. However, during her PhD she realized that she did not want to follow an academic career.
She began to apply for jobs and internships in Science Communication for almost a year before she graduated. This way she had time to learn how this process works in this area. She sent applications for a wide range of jobs at first, and through this process learned enough to narrow her search down and go specifically for an internship.
After sending in her cover letters, resumes and portfolio to many places, she was invited to interviews by some of them. These interviews were all by phone or video conferencing. The interviews were focused on why Deboki was interested in doing science communication with video.
Deboki's portfolio only consisted of her videos. She worried her videos weren't professional enough, but this was unwarranted. The technical quality of her work wasn't the main focus for her interviewers. They were more interested in the combination of skills, being a PhD on one side, and communicating with video on the other side.
Internship with Scientific American
She was accepted for an internship with Scientific American where she got to do exciting work. She made explainer videos, helped interview a nobel prize laureate, worked on a podcast for "60 seconds science", and she learned to do animations.
Deboki had no experience with creating animations prior to this internship. But she found that learning to create animations wasn't much different from learning to code. Once you have the most basic principles down, the rest is searching for tutorials on the internet.
Another skill she has been honing is writing. While in the past she mostly enjoyed writing essays, she now writes scripts that are supposed to be read out loud and sound natural. For her YouTube videos she can write more freely as her talking is the focus of the video. But for explainer videos, the narration must fit an existing animation.
Diversity in SciComm and Harassment on YouTube
Deboki addressed diversity issues of academia in one of her videos. She says she doesn't have enough of an overview, yet, to know whether SciComm was a more diverse community. However, although her YouTube channel is small and doesn't usually catch the attention of the typical troll, she did already have negative encounters. She fears that when her channel grows she may face the same harassment that other female science YouTubers are already dealing with.
Finding and Growing an Audience
In Science Communication the most important part of being successful is, of course, having and growing an audience. Typically the first people interested in a new science show are other scientists. But Deboki finds that already having an active audience in the book community allowed her to reach non-scientists more easily. She recommends branching out into other communities like this in order to find a wider audience.
resume
I think the most important tips for transitioning from science to science communication were:
You should begin searching for the next job early
You should be open to a wide spectrum of jobs.
Your portfolio should show your willingness and ability to learn new skills but it doesn't have to be perfect.
PhDs who also know their ways around media may have an edge
if you are already active within a community outside Academia maybe they're interested in what you have to say simply because they already know you! A great way to "break in" to the general public
Do you have questions, comments or suggestions? Email info@scienceforprogress.eu, write us on facebook or twitter, or leave us a video message on Skype for dennis.eckmeier.
sources:
• YouTube Channel Okidokiboki
• Press release: The Nobel Prize in Physiology or Medicine 2018
• Women Making Science Videos on YouTube Face Hostile Comments
• Deboki looks back on her internship with Scientific American on Twitter
work Deboki did at Scientific American:
• Video-Stiglitz Interview
• Video-What do honeybees do in winter?
• Podcast-Computerized Chemical Toxicity Prediction Beats Animal Testing