Podcast: Play in new window | Download (Duration: 32:47 — 17.0MB)
Subscribe: Google Podcasts | RSS | More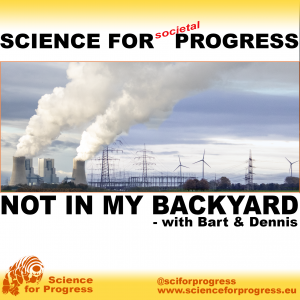 After an unforgivable delay this episode is finally out. We had some personal and technical delays. Sorry about that.
Anyways, in this episode Bart and I continue a conversation about the Energiewende. Based on the latest episode we spoke about which solutions we think should work well. The big problem seem to be the "Not In My BackYard" stance of many people who live where the new infrastructure need to be built.
Since Brexit was supposed to happen, we also talk about Brexit, and how it is hurting science in the UK.

Energiewende
To my surprise, Bart informed me that there are scientists who argue for a hydrogen based personal transport system. I am surprised, because we have hydrogen is so much more expensive. So, we go back and forth with a couple of arguments about practicability of different solutions.
After that we talk about the problems building the infrastructure. Many citizens protest the construction of wind turbines and transmission lines, which is bringen the expansion of renewable electricity production in Germany to a halt.
To me, personally, this is a petty stance. Where I am from, the famous "Hambacher Forst" isn't far. They didn't just built some turbines and power lines, they removed whole forests and towns to mine brown coal. There are several coal plants, and mines, here. I took the photos for the artwork of this episode, myself. Both (wind turbines and coal power plant) were taken within walking distance from my home.
Brexit
Bart gives us a quick review of what happened prior to the last almost-brexit that happened on October 31st.
But the reason we wanted to talk about brexit was that there were news from The Royal Society: UK science has already suffered greatly from the brexit-uncertainty.
Resources