Podcast: Play in new window | Download (Duration: 35:38 — 16.3MB)
Subscribe: Google Podcasts | RSS | More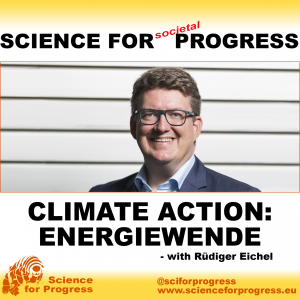 For this episode I speak with Dr. Rüdiger Eichel, professor for Materials and Processes for Electrochemical Energy Conversion and Storage at the RWTH Aachen University, and Scientific Director for the Institute for Energy and Climate Research at the Research Center Jülich in Germany.
Dr. Eichel gives us an insight into the chances and challenges of the Energiewende. The new found interest in climate issues in the public that can be seen in the Fridays for Future movement and the outcomes of the EU parliament elections, make him optimistic. He now sees the chance to talk with society about the technical possibilities to switch to fully renewable energy sources, how long it might take to implement, and how much it might cost financially and in terms of living quality.
Energiewende is not Enough
Many of you may have heard the name of the project to transition the German energy sector "Energiewende" – a name that connotes the energy transition with a course correction and – at least to me – also has an optimistic association. The goal of the Energiewende is to achieve 80% of electricity to come from renewable sources by 2050, while at the same time leaving fossil fuels and nuclear power behind.
But the Paris Agreement asks for CO2 emission reduction across the board. And although the energy sector is the largest producer of carbon emissions in Germany, it is not the only one. In order to reach the goals of the Paris Agreement, the mobility and transportation sector, as well as the industrial sector need to be transformed as well.
This means that Germany, one of the most industrialized countries in the world with a population of 80 Million people ranking 4th in GDP worldwide behind the USA, China, and Japan, is setting out to re-invent its economy at its core. A challenge, and a chance at the same time.
More Renewables Needed than Planned
In order to charge all batteries, load all fuel cells, and produce synthetic fuels and chemical compounds for the chemical industry, we need additional power. And this is a problem since citizens in Germany are already complaining about wind turbines in their neighborhoods. Bavaria even changed the regulations making it basically impossible to add more turbines.
Rüdiger Eichel is optimistic that we can achieve our goals. However, what has to happen first is a serious discussion within society about what we are willing to change and at what speed.
Powering the Mobility and Transportation Sector
Manufacturers are focusing on using lithium ion batteries for their electrical vehicles. However, with the global economy moving to electric personal mobility, lithium might become a rare element. And electric vehicles are currently too expensive for 80% of Germans. Ramping up EV production and sales significantly in the next 10 years will be difficult.
Heavy duty and long distant transport, however, will likely never be done with battery powered vehicles. This is mostly because batteries – although high in efficiency – have a low energy density, meaning in order to have sufficient energy on board, planes and ships would have to deal with heavy additional loads. Here, synthetic fuels would be a solution. Unfortunately, at the moment their production cost is 5-8 times as high as fossil fuels.
Eichel estimates that we could reduce the price for synthetic fuels (made from waste CO2) to twice as high compared to fossil fuels. But while synthetic fuels need to be produced using power, oil doesn't need as much processing to be used as fuel. So synthetic fuels can never be as cheap as fossil fuels. This is where a carbon tax can be used to make fossil fuels less profitable.
And in the end, this would still mean that travel and shipping of goods will be much more expensive than today. We might not be able to go on vacations as often, or have off-season fruits and vegetables in the supermarket all year around.
Industries are Investing in Future Technologies
Rüdiger Eichel's experience with industry is an optimistic one, too. All industries understand that they must change their ways. The energy industries are investing heavily in renewable power plants, and there is great interest in synthetic fuels and other chemical compounds made from waste CO2. A label "climate neutral", they understand, would give them a great advantage over competitors, as the awareness of the consumers for climate issues are rising. However, the faster the switch in production is supposed to be, the more expensive it will be, and the private sector needs to work profitably.
Society Must Decide
Dr. Eichel compares his personal situation to the Gold Rush. The opportunity to rebuild a whole economy is fascinating and exciting for scientists in the field.
At the same time he sees the duty for scientists to lay out to the public what will be possible when, and what the costs will be.
Let's hope that the public is following Fridays for Future and is willing to make bold decisions.
Resources: