Podcast: Play in new window | Download (Duration: 9:30 — 4.5MB)
Subscribe: Google Podcasts | RSS | More
Just some announcements this time
In contrast to what was promised in the last podcast episode, we don't have a full question and answer episode this time. I hope this will not happen too often, in future.
Dennis is a freelancer now.
First thing is that I quit my postdoctoral fellowship to become a freelancer. You can see how I approach this on my website. Basically I want to offer my skills and expertise in scholarship and neuroscience to help people with their academic writing, be it papers or funding applications.
This means that I am currently a bit low on finances, which makes financing Science for Progress more difficult, of course. More about how you can help me with that further down.
Science for Progress News
new volunteers for @sfprocur
Susan Leemburg and Katharina Hennig are now helping me to find and curators, and manage the schedule.
looking for a facebook page moderator
I have not given our facebook page the love it deserves. So I am looking for someone who would share relevant articles on there and in general keeps it lively. If you are interested, send me an email to socialadmin@scienceforprogress.eu
inviting opinion pieces
I hope you noticed that I made some design changes to make these bog posts more pleasing to the eye, in particular for longer reads. This is because I want to invite writers to publish opinion pieces with us. Sadly, I can not pay for such articles. I would really like to commission pieces to professional writers, but I simply can't. So if you are thinking about contributing an article despite of that, make sure it includes some promotion for yourself or your own project.
More podcast episodes!
I want to add some more discussion to the podcast. But because the interview episodes are usually already pretty dense in information and fill 30 minutes easily, I don't want to add this discussion to the interview. It is also good to have some time between interview and discussion so I can gather some feedback from you, our listeners. So we will alternate interviews and 'Q&A episodes', in which we will talk about some news, what is going on in Science for Progress, and then discuss the previous interview. This format should also be about 30 minutes in duration. This also means that we are moving from an episode every three weeks, to an episode every two weeks.
Feedback
Intersting interview with @brembs about journal impact factors- for people who know about the issues always interesting, for those who don't even more important! #science #WhatScienceIsImpacting https://t.co/RnQwpajLc5

— Simon Sprecher (@simon_sprecher) 17. September 2018
This is a great comment! Being interesting to people who know about the issue while being important to those who know is pretty much the sweet spot where I want the podcast to be. I hope there will be many more episodes receiving praise like this!
I'm listening to @SciForProgress podcast on impact factor. Everyone should listen at least to the 1st 5 minutes of it. When they say this is known: I did not know! And I've been doing science for 10 years now.

— Science is not Glamorous (@Science_glamour) 29. September 2018
I have been thinking the exact same thing! I knew things weren't 100% correct with the Journal Impact Factor, but I didn't know about the details, either! When Björn Brembs says 'it is known' he didn't mean everybody is aware, but that the information is openly available, if you look for it. Which I think most of us don't!
Well, its wonderfull. As authentic and on spot as everything in the project

— Zé (@93Antidote93) 13. September 2018
What more can I say than that this warms my heart. 😀
BECOMING A PATREON COMMUNITY!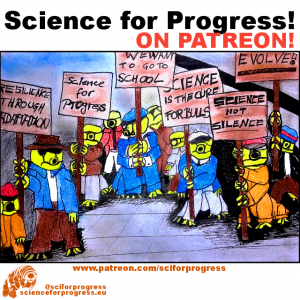 As I mentioned further up, I currently do not have a steady income and it may take a while to get there. This is why I need your help to continue investing my time and money into improving and growing Science for Progress activities. For over a year I have created everything you see myself (even the podcast music!), and everything is coming out of my pocket.
At first, I was not 100% convinced Patreon would be the way to go. But after looking into my options, I think this is actually the best solution for us, right now.
I always wanted Science for Progress to be a community with invested and engaged members. I did want to found an association that can raise tax-deductable donations. However, looking into the details of this, I realize I am not currently in a position to found an association. But a Patreon community that I treat like a social business is the next best thing.
A social business does not funnel profits back to their investors but re-invests into the social cause it is working for. For us this means I will use your pledges to invest my time and money into growing and improving Science for Progress outreach. Top priority remains to advance our causes. And yes, this means that if in some Utopian future the pledges rise to cover a full salary and expenses, I would work full-time on Science for Progress.
So the perks I offer to Patreon members won't take away from our cause. Tier 1 and higher members would get access to a Discord text and voice chat server which I plan to use to hold monthly meetings. Tier 2 members would also get access to a "director's cut" of the podcast that includes some parts that won't make it into the final episode – I already uploaded the director's cut for last episode on Patreon. Higher tier members would for example be mentioned on our website, and at the end of a podcast episode. Things like that. I would actually like to hear from you which kinds of perks you'd like to see for different tiers.
I hope you are as excited about this as I am and consider to Become a Patron!