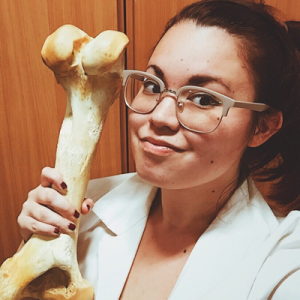 Alex Fitzpatrick, MSc FSA Scot, is a PhD student in zooarchaeology. She studies the animal remains from the Covesea Caves ("The Covesea Caves Project"), a series of later prehistoric sites in Scotland. These sites may be places of funerary and ritual importance. She is further interested in science communication, specifically with the general public.
Her science communication efforts are found in her weekly blog, Animal Archaeology, and in a podcast about zooarchaeology called "ArchaeoAnimals" which she co-hosts.
Alex is very passionate about decolonizing archaeology. Archaeology and anthropology have a past that is entwined with white supremacist and colonialist structures. It is vital to combat these entrenched ideals for these fields to continue to grow. Alex carefully checks herself and her work. But she also works to amplify the acceptance of the marginalized and their work, and to make their critiques and concerns regarding current archaeological research heard.
In a similar vein, Alex wants to change the way the public views archaeology. It should not be about material gains through artifact recovery. Instead, it should be about learning about our collective pasts. Archaeology, she says, is much more than a collection of (usually stolen) "treasures" from another land. Hopefully we will move towards a more just perspective, freed from the power structures currently instilled in them.
During her curation, she aims to inform us about archaeology, and it's different approaches and research interests. And she wants to promote a more decolonized, equitable archaeology that values and centers the experiences of black, indigenous, and people of color in the conversation.
background
After learning about archaeology as a child from popular culture (think: Indiana Jones, Tomb Raider – terrible examples of archaeology looking back!), Alex immediately went and dug a 2 foot hole in my backyard. She prepared for a career in the arts in high school before she rediscovered her love of archaeology as an undergraduate student. Here, Alex switched from becoming classical archaeology to British archaeology after going abroad for excavation.