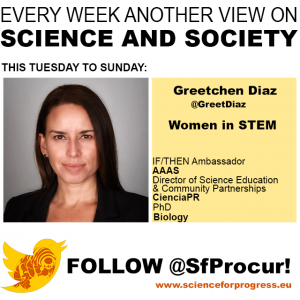 Biologist Dr. Greetchen Díaz is Director of the Science Education Program and Community Partnerships at CienciaPR. As such, she is committed to make significant changes in the way the STEM disciplines are taught in Puerto Rican schools and beyond.
Greetchen was recently awarded the prestigious "IF/THEN Ambassadorship" by the American Association for the Advancement of Science (AAAS). The goal of IF/THEN Ambassadors is to "share stories of their STEM journeys and the many ways in which they use science, technology, engineering, and math to solve problems and create new possibilities for the future".
During her curation on @sfprocur, Greetchen wants to talk about women in STEM, Science for Service, and Scientists for K-12 Science Education.
Greetchen is particularly passionate about supporting women/girls in science. She created a bi-lingual blog "Borinqueña" to highlight the career and success stories of Hispanic and Puerto Rican women in STEM. She then founded a sub-community in CienciaPR to create face-to-face initiatives about women and STEM. Out of this initiative came the "Semilas de Triunfo" (Seeds of Succeed) STEM Ambassadors Program. It is the first STEM ambassadors program in Puerto Rico to motivate middle school girls to follow careers in STEM, and to empower girls through the development of leadership skills. In 2015, more than 100 participating girls were able to impact about 10,000 people throughout the island with their STEM activities. This year they continued the program and expanded participation to high school girls.
background
Greetchen's deepest early memories are of the nights that she spent reading a red encyclopedia. It was a gift from her grandma, and her source of knowledge for many years. Those years of lecture made her figure out her purpose in life: to be an astronomer, fashion designer, and writer! But later, Greetchen found her love for biology and microbiology.
Greetchen completed a Bachelor and Master Degrees in Biology at the University of Puerto Rico, Mayagüez. She earned her PhD in Molecular, Cellular and Developmental Biology at The Ohio State University. For her PhD thesis she studied intracellular protein trafficking using budding yeast as a model system.
From her PhD, Greetchen moved on to work as a postdoctoral researcher at the Nebraska Center for Virology, University of Nebraska at Lincoln. She was awarded a Postdoctoral Fellowship to conduct studies in reproduction of Human Papilloma Virus by the National Institutes of Health.
In 2014, Greetchen decided to go back to Puerto Rico. She was still considering a career as an Academic. But then things changed, and she became the Grants Program Director at the Puerto Rico Science, Technology and Research Trust. She was responsible for the implementation of the first local grants mechanism for researchers in Puerto Rico. And she also coordinated outreach and education activities.
In 2017, Greetchen joined another non-profit, Ciencia Puerto Rico. CienciaPR's mission is to democratize and transform science education. As a volunteer, Greetchen participated in numerous projects in science communication, science outreach, science policy and science education for about 10 years.
In this way, Greetchen made nonprofit organizations her platform to create impact. She didn't anticipate this, but she is satisfied with the way things turned out.
Adding to her commitment in this sector, Greetchen was President of the Puerto Rico Society of Microbiologists (PRSM), where she previously served as the PRSM's Board of Director's secretary, and ASM councilor. The PRSM is the local branch for the American Society for Microbiology (ASM), where she is currently a member of its Board of Directors.