"Why aren't our failures in science embraced the same way as our successes?"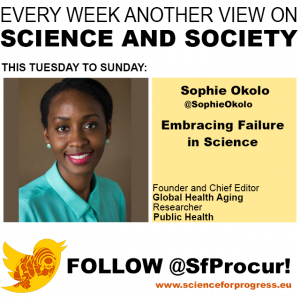 Sophie Okolo, MPH, is the founder and chief editor of the website Global Health Aging, which covers research and news about healthy ageing. She is a science writer and researcher with a background in aging, bioinformatics, and health technology. Her insights and bylines have appeared in Forbes, MarketWatch, PBS Next Avenue, Philips, and IEEE Potentials, among others.
Sophie is interested in how technology can support healthy aging, and how it can help to fight the loneliness that many older adults experience. She communicates about these topics through podcasts, magazines, social media, etc. She also collaborates with colleagues working in areas such as assistive robotics.
While curating @sfprocur, Sophie will talk about embracing failure, finding resilience, and starting over in science.
background
Sophie completed a bachelor's degree in bioinformatics and a master's degree in public health in the USA. Her research experiences include interning at the City of Hope National Medical Center, and participating in the NSF-funded Research Experience for Undergraduates (REU). She further worked for various institutions including academia, non-profits, think tanks, and others.
She loves explaining her research without jargon. In 2014, Sophie founded "Global Health Aging" to discuss various topics of science. Working with writers and editors from around the world, Sophie published stories on topics such as dementia, big data and AI, or substance abuse. Global Health Aging remains recognized as a resource for research on Aging and Age-Related Diseases by Georgetown University's Medical Center Library.
Sophie's favorite inspirational quote about #SciComm is from American clinical psychologist and researcher Anne Roe – "Nothing in science has any value to society if it is not communicated".
In addition to her research and science communication, Sophie is an advocate for STEM inclusion. She supports causes that improve women and minority representation, most recently Unique Scientists. She is a TEDMED 2020 Research Scholar and serves as an advisor to humanKINDER, a company that shines a light on untold stories, ideas, and solutions for systems change.