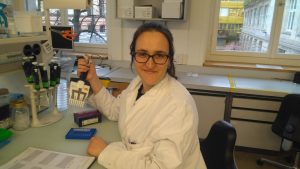 Pilar Vesga, MSc, is a PhD candidate in the plant pathology group at ETH Zurich in Switzerland, where she studies how some bacteria could be used to combat harmful insects and plant diseases. Her work helps lay the groundwork for better pest management, which could eventually help solve the world's food crisis.
In her week at @SfProcur, Pilar will discuss biological pest control, the food crisis, the role GMOs can play in solving it, and what the alternatives are. As a microbiologist and general bacteria enthusiast, she will also share some of her favorite curious microbes.
background
Ever since she was a teenager, Pilar has been curious about all kinds of science: climate change, NASA expeditions, animal science, you name it. When she had the opportunity to go to university, biology was the obvious career path for her and she completed a master's in environmental microbiology at the Universidad Autonoma de Madrid.
Before moving to Switzerland, Pilar started a PhD in Spain, which she had to drop because if the economic difficulties in Spain during the financial crisis. Her largely unplanned move to another country was scary, "but now I will highly recommend it to anyone."
Besides working on her PhD, Pilar takes part in different science communication and outreach efforts. She is currently organizing the Planet Earth sessions of the Zurich edition of Pint of Science. She is also responsible for the Swiss website of this science festival. Additionally, she is also part of the Science & Art Collaborative in Zurich. This group tries to share science and turn it into art and is open to anyone who is interested. You can find Pilar on twitter at @CaterPilarVesga.