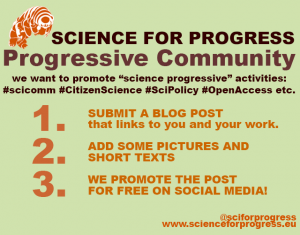 We support outreach efforts of science communicators, educators, science policy workers, open science community, and other members of the – what we call – Science Progressive Community.

Such projects are usually done by small groups or individuals that can't afford to invest time into build a following on social media for effective social media promotion.
This is how we can help:
SUBMIT AN INFORMATIONAL BLOG POST that links back to you and your project

ADD SOME PICTURES AND SHORT TEXTS

WE PROMOTE THE POST ON SOCIAL MEDIA

PROFIT! 😉
It is free! unless you want us to do some of the work for you 🙂
IN DETAIL, we offer
a space on our blog where you can announce an event, introduce yourself as a person or organization, or write a guest article on a topic that fits our scope.
Promotion of this post through our own social media channels.
What are your options?
If you are interested in submitting an article / blog post to Science for Progress, please use the google form, below. In the following we describe some details about the form.
formats
You can choose from three different, loosely defined formats:
Event Announcement – this is a short text (100-250 words) meant to get people to show up at a specific place and time. This can be online or offline.
Self-Introduction – in a brief text (200-500 words) you can describe the goals and current actions of your organization or project. It doesn't matter whether you are a team or individual. The goal should be to get people to visit your website, join, follow you on social media, etc.
Opinion Piece – this should be a longer piece (250-1000 words) in which you talk about an issue relevant to scientific progressiveness (societal progress through evidence driven policies, improving academia, improving science communication, etc) that you or your organization work on.
We reserve the right to reject submissions for reasons of quality or inappropriate content. Contact socialadmin@scienceforprogress.eu if you want to pitch your contribution beforehand!
timing of the post
You can give us dates of events, so we can try to post your submission well ahead of the event. However, please make sure to send us time sensitive submissions early. We try to process and post your submission within 10 days. Factors that play into the timing are: optimal spacing of our posts on the different social media platforms, and our current workload.
If your audience is local, you should also indicate the time zone, so we can choose the appropriate time of the day to post.
Twitter has a special, real-time dynamic. Because of this the promotion on twitter will involve repeated posts for a week. Facebook and Instagram posts will only occur once.
graphics
We ask for a mandatory "cover image", and give you the option to add a "flyer image". Both pictures should be square and at least 640×640 px big.
The cover image should have faces, animals, or comic characters on it, but no slogans or texts (attributions in small font at the border are acceptable).
The flyer image may have texts and logos.
further options
You can choose which social media platforms (Twitter, Facebook, and Instagram) you want your post promoted on, by providing text for the tweet, post, or caption.
You can add your own social media handles for us to ensure they show up as direct links in the appropriate platforms.
We can take requests for professional copyediting or copywriting of the texts. These will be passed on to freelance editors Dr. Dennis Eckmeier, or Dr. Susan Leemburg. These are optional paid services.
Still unsure?
If you want to inquire whether your contribution would be a fit for us, please send your pitch to socialadmin@scienceforprogress.eu!