Podcast: Play in new window | Download (Duration: 32:11 — 15.8MB)
Subscribe: Google Podcasts | RSS | More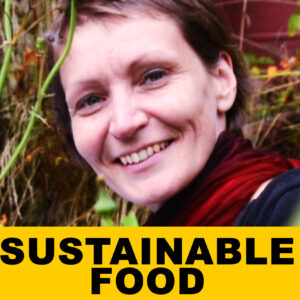 Food production, transportation, and consumption habits have an immense impact on health, biodiversity, and the climate. Which food we eat influences our risks for metabolic and cardiovascular diseases; but also the use of land, water, fertilizers, and pesticides, Prices are the main driver for our decisions at the grocery store, but –  just as we discussed in the context of mobility and industry as a whole in earlier episodes – the true costs from damages done to the environment by unsustainable agricultural practices are hidden from the consumer.
For this episode, I interviewed Dr. Gesa Maschkowski. She is a science journalist and editor in the field of nutrition and sustainable diet communication. For her PhD she looked into interventions to shift dietary habits in society. She found that the deficit model – merely informing citizens what would be beneficial practice – isn't sufficient. Instead, intensive work was necessary to include citizens in the transformation process and guide them. This is how Finland was able to reduce diet-related health issues in its citizens.
Speaking of dietary recommendations. The EAT-Lancet Commission published recommendations named the "Planetary Health Diet". The diet is supposed to be healthy and at the same time its production sustainable. The change in diet for the average European would mainly be to exchange most of the animal products – meat, dairy, and eggs – with fruit, vegetables, legumes, whole grains, and nuts.

As an activist with Scientists for Future, Gesa participates in a project with the city of Bonn that will put what she learned about guiding transformations into practice. The inclusive approach was met with agreement by the city council and they are now setting up the structure for the project. And this project isn't just about eating habits and agriculture, the whole city is supposed to become carbon-neutral within 15 years.
This project could be a model project for transforming cities and cultures. Unfortunately, we can't wait to see how it works out. This opportunity has passed. We need action everywhere, immediately.
Sources