Podcast: Play in new window | Download (Duration: 40:37 — 18.6MB)
Subscribe: Google Podcasts | RSS | More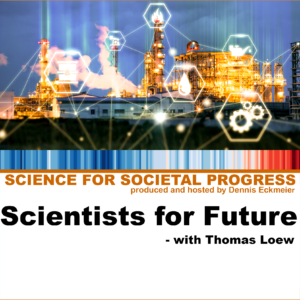 The initial statement of Scientists for Future in support of Fridays for Future came out just at the right time. In the public debate, it was a swift response to politicians who were trying to mute the student strikes by telling them to "leave it to the experts".
In reality, scientists who had been concerned about the climate and the ecological damages human activities for decades had been working on the statement for a while. Among the authors was our guest Thomas Loew.
Thomas Loew is a German researcher who started his own Institute for Sustainability. He studies how companies can and should respond to the risks posed by ecological damages – on a management level. These studies are usually for the German federal government. Besides academic articles, the outcomes of his research are published in the shape of guidelines or recommendations to company managers.
He finds that companies are ready for a change in order to address climate change. What is holding them back is that regulators hesitate to create market conditions to incentivize change and to decrease the economical risks of investing in new products and production lines.
Understanding that climate action is too slow due to lacking regulation is what brought Scientists for Future together. And they quickly outgrew the initial statement. While not planned as such, some of the more than 26 000 signatories decided to continue and become more active for the cause.
Today, Scientists for Future consists of many local groups that are loosely organized. Although Thomas Loew is officially an organizer of the movement across Germany, Austria, Switzerland, and Northern Italy, he usually learns about the activities of local groups through the news.
However, to uphold consistency across the movement, Scientists for Future set up a kind of "Carta" that regulates which types of activities conform with the agreed-upon role of science in society: to research, to inform, and to consult.
Resources