Podcast: Play in new window | Download (Duration: 29:23 — 13.5MB)
Subscribe: Apple Podcasts | Android | Google Podcasts | Stitcher | RSS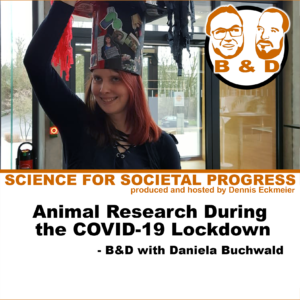 In this episode, Bart and I invited Ph.D. candidate Daniela Buchwald from the German Primate Center. We compare how the University of Göttingen and the German Primate Center responded to the impending shutdown of most research activities – with a focus on how the animals are being cared for.
The conversation was recorded on Tuesday, March 17, just after the German local government began to take serious action to reduce public life in order to slow the spread of SARS-CoV-2, the virus that causes COVID-19. Remember, that when we talk about news reaching us on Monday, we mean "yesterday" at the time of recording.
Do you have questions, comments or suggestion? Email info@scienceforprogress.eu, write us on facebook or twitter, or leave us a video message on Skype for dennis.eckmeier.
Resources