Podcast: Play in new window | Download (Duration: 31:09 — 14.8MB)
Subscribe: Google Podcasts | RSS | More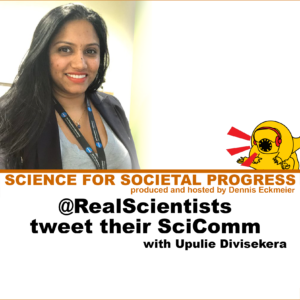 For this episode, Dennis talked to Upulie Divisekera, the Australian molecular biologist and accomplished science communicator who co-founded "@RealScientists". She shares how she got access to platforms with large audiences, and lessons from her SciComm experiences: that you should use storytelling and never underestimate your audience.
If you are on Twitter and like to learn about science and the people behind it, you probably know @Realscientists, the Twitter rotating curation account. There, real-life scientists sign up to talk about science and their daily lives for a week at a time; showcasing the diversity of scientists, and breaking the trope of academics as an elitist group.
Beyond @RealScientists, Upulie Divisekera wrote articles for mainstream Australian newspapers, gave talks at cultural events, and partook at the first science panel of the TV show "Questions and Answers". One of her many fascinating stories took place in 2011. Following the discovery of the first feathered relative of T. rex, @Upulie – as she is called on Twitter – both ranted and cheered for the new discovery. This got her invited to give a talk at TEDx Canberra! She doesn't have a background in paleontology, but communicating the scientific results wasn't the point. In our imagination, the past was populated by enormous reptiles with big pointy teeth. But suddenly the new discovery forces us to re-imagine them as big fuzzy reptiles! The message: Science makes us re-evaluate our views of the world, past and future!
Resources