Podcast: Play in new window | Download (Duration: 24:54 — 13.0MB)
Subscribe: Google Podcasts | RSS | More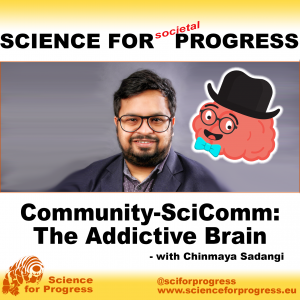 In this episode I talk with Dr. Chinmaya Sadangi about his Science Communication Project "The Addictive Brain".
Science Communication is of major importance. This becomes increasingly clear as we are witnessing the climate action demonstrations which are still being met with rather disappointing responses from the governments. Because of this, I regularly feature science communicators on this podcast. The goal is to inform academics about the possibilities of contributing to science communication. This can be done either in parallel to their academic careers, or as a career choice.
The Addictive Brain is a community-based science communication project, as Chinmaya invites another science communicator to contribute on a regular basis. He is very passionate to represent women and men, both, as well as scientists from all over the world and at any career stage.
Although a wide variety of contributions are accepted, the core activities of The Addictive Brain happen on Instagram. There, scientists can choose to either present their science in a 1 hour appearance on Instagram live, or they can do an AMA over three days. For the future, Chinmaya plans to add more features to the accompanying website, and another scicomm format on Instagram.
He explains how this works, why he is putting in 2 hours every day in addition to working full-time on his research, and what the contributors can get out of this.
You can find The Addictive Brain on their website, on Instagram, as well as on Twitter, Facebook, and even LinkedIn. Videos are also posted on YouTube. The contact email is addictivebrain@gmail.com.