We are very grateful for everybody who supports Science for Progress!
Ways to support Science for Progress:
• ENGAGE ON SOCIAL MEDIA •
follow @SciForProgress on Twitter, Facebook, and Instagram to LIKE, SHARE, and COMMENT our content and announcements! If you are on twitter, don't forget to give the rotating curation account @sfprocur some love, aswell!
• SUBSCRIBE TO THE PODCAST •
"Science for Societal Progress" is on your podcast distributor of choice (if not, tell us!) – and don't forget to give us that sweet 5 star rating!
Make sure to mention the podcast (and Science for Progress), when an episode made you bring up a topic with colleagues, friends, and family!
• GIVE FEEDBACK •
We always want to improve! Constructive criticism, suggestions, and praise are welcome through social media, by email (info@scienceforprogress.eu), or as Skype Video Message (account 'dennis.eckmeier')!
• VOLUNTEER •
We are looking for social media moderators! Do you want to help us keep our facebook and instagram accounts active and responsive?
If you work to improve academia, or work at an intersection between academia and the public, you could pick up a 6 day curator slot on @sfprocur on twitter! Apply under socialadmin@scienceforprogress.eu!
We also have an open invitation for informative opinion pieces on relevant topics! We would love to commission such articles, but can't afford to pay, sadly. If you consider pitching us an article, make sure you get something out of it, as well!
• BECOME A PAYING MEMBER •
This is, I think, the best option! By pledging a monthly amount of just about 2.60 EUR (3 USD) you get access to our monthly meetings on our "Discord" server (text and speech chat system). Other perks include early access to a director's cut version of our podcast interviews. Learn more on our Patreon Website!
Don't really like the rewards? We are new to this, so let us know what kinds of rewards you'd like!
• BUY SOME MERCH! •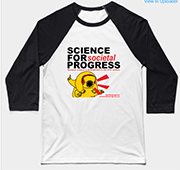 Our shop on Teepublic features shirts, mugs, laptop cases, and many more things with our logos on it!
• BECOME A SPONSOR •
We are looking for a sponsor for our podcast "Science for Societal Progress"! Do you think your brand would look good sponsoring an upstarting science advocacy project? I think it would!
• MAKE A DIRECT CONTRIBUTION •
You can contribute (not tax deductable) directly by credit card or PayPal!