How can I contact you if my questions aren't answered here?
There are several ways get in contact:
– send an email (info@scienceforprogress.eu)
– mention us in your posts, or send a direct message on social media (@SciforProgress on Twitter, Facebook, or Instagram)
As of now, any of these communications go directly to Dennis Eckmeier.
What is Science for Progress?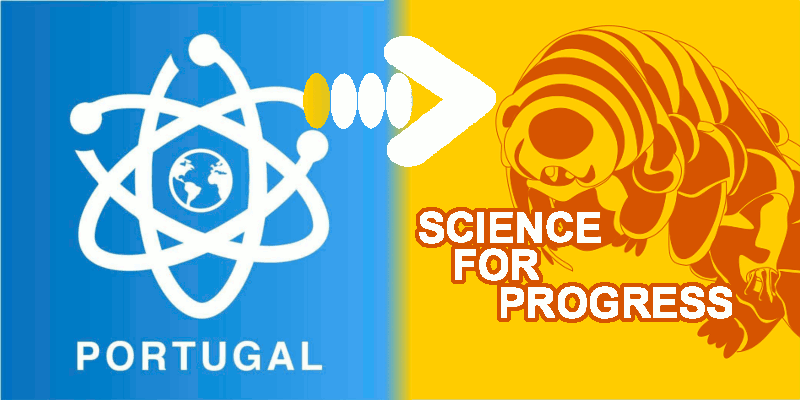 Science for Progress is an upstarting community for science advocacy, based in Lisbon, Portugal. We are following the March for Science, and our goal is to strengthen the roles of the sciences in society. We have social media outlets and this website to share content and invite people to join in. We also hope to organize life events in Lisbon at some point. To create content and events, we are currently building an organization team! Want to join? Depending on how things go, we might turn into an association, or a non profit organization, one day, but let's take it slowly!
What kind of activities are you doing?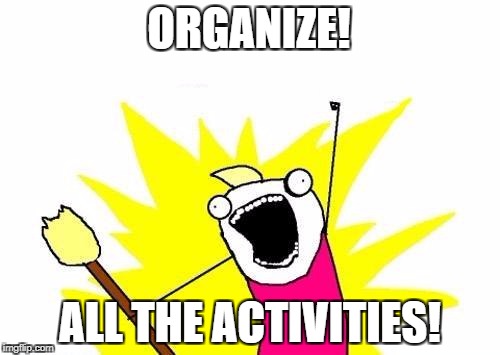 There are uncounted science communicators, science advocates, and academic reformers out there who are doing excellent jobs. Simply adding the next science communication gig, would be a mere drop in the ocean. However, many people struggle finding an audience. Because of this we are focused on providing platforms for the community. We want to help highlight our contributors and increase their audiences, while on the other hand establishing connections with all those excellent people!
So far we established two ways of showcasing contributors, while being informative at the same time: we are producing the 'Science for Societal Progress' podcast, and the twitter rotating curation account '@sfprocur'.
We also have a blog that is open for guest posts! However, there are many websites out there that offer science communicators 'exposure' without compensation. We do not want to be 'one of those websites', but we have no funding to pay writers for their work. So, we explicitly invite self-promoting pieces from projects in our scope that are also informative about current problems and solutions.
Previously we had plans for a science convention in Lisbon, Portugal. We planned to invite the many communicator groups in the country to come together for a 2-3 days long convention for the lay audience. It would consist of workshops, debates, a job market, and one or two keynote talks. The goal of this event would be to give the lay visitor an understanding for the scientific process, current societal challenges, and a positive outlook on how the sciences can help tackle these problems. However, after most initial members left, our team is not big enough for this endeavor.
There are, of course, other means to propagate our message. Social media, and this website will hopefully continue to grow as platforms. But to get it done well, it takes a whole community of motivated people!
As for concrete topics that we find appropriate to address, we have an incomplete list.
What about the humanities?
I (the initiator) am a STEMer through and through. So, I'm probably not doing a good job at making it clear, but I really want people studying the humanities to be part of this whole thing! Come and advocate for the humanities!
Is this a political group*?
Yes. We are following the March for Science, which was triggered by the growing political influence of ideologies that conflict with the empirical evidence, and current scientific understanding. Our goal is to further societal progress by advocating for science and education (progressivism). Our approach is to communicate with the public, government and policymakers, and academia. These are inherently political activities.
The core political messages of Science for Progress must be in support of the scientific endeavor itself. Further, we support political debate that is based on empirical evidence that is evaluated using scientific and ethical standards.
Such positions are often between party-lines. Climate change denial, anti-vaccination, nuclear energy, fear of genetically modified food, etc; every political community seems to embrace views that the currently available evidence disagrees with. Science for Progress can not sign any ideological label associated with such believes.
* we did not discuss this, yet, so it is the initiator's answer.
How can I support Science for Progress?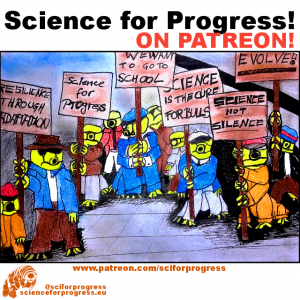 volunteering
• Spread the word online and offline!
• pick up a 6 day curator slot on @sfprocur on twitter!
• volunteer to do social media outreach for us on facebook or instagram!
financial support
• For our podcast we are looking for a sponsor!
• become a member by pledging a monthly contribution of your choice on Patreon!
Whose pockets are you in?
Yours! We don't affiliate with a political party, or educational institution, we have neither partners nor sponsors, yet. The goal is to be predominantly financed through crowd funding so to stay independent. This is why before we began looking for sponsors, we started a Patreon community. Obviously, if we find a sponsor or partner, we would not accept arrangements that would allow third parties to influence our content and stance.
What's up with that monster?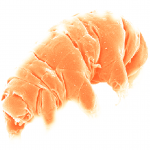 It's not a monster, it's really tiny. It's called a tardigrade (or water bear) and we voted it to be the mascot for the Marcha pela Ciência. Sadly we did not have time and manpower to really use it for anything, so I just adopted it for Science for Progress. I think it works well, because it's one of the most resilient animals ever to be studied. You can freeze-dry it, and shoot it with radiation, and it will recover - it survives being in space! I see it as a metaphor for a resilient and tolerant society that prospers through adaptation - using science!