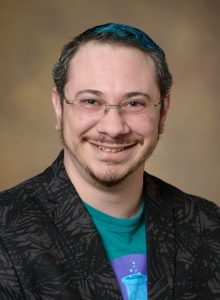 Gaius Julian Augustus is a freelance science artist who focuses on infographics, illustrations, and animation. He is also finishing a Ph.D. in cancer biology. He hopes to combine what he has learned from art and science in fun content that excites people about the world.
This week, Gaius will address issues that can make people feel like they do not belong in academia, like being trans* and having mental health problems. He will also discuss how scientists can use art to communicate more effectively with each other and the general public.
background
Gaius grew up wanting to be an artist, mostly because his teachers made science seem like a baffling collection of facts. Still, he ended up loving science in high school and started taking classes for fun. At university, Gaius studied video production and went on to work in retail. Hoping to find a better career path, he eventually returned to study Integrative Studies (Chemistry and Biology). Going back to university after a 4-year break was daunting, but he started volunteering in a lab, fell back in love with science and decided to pursue a Ph.D.
Gaius thinks that the scientific community has been dangerously balancing between two worlds: "On one hand, we want to inform policy and advance the health, knowledge, and well-being of humans. On the other hand, many scientists feel that getting too political or social is inappropriate." He finds it risky when scientists deny themselves a voice in their own society. Instead, scientific studies should be used to make social decisions at all levels. Sharing scientific knowledge and teaching the tools to critically evaluate it, are essential for this.
You can find out more about Gaius on his website.