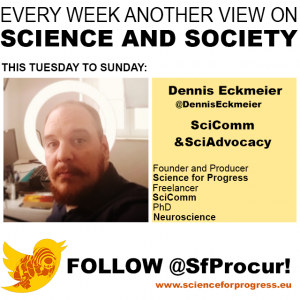 Dr. Dennis Eckmeier is a neuroscientist who ended his 13-year research career in 2018. He taught himself audio-visual communication during a year-long 'self-financed sabbatical'. He is now available for hire as a neuroscience consultant (including writing and editing) and science communicator.
Dennis founded Science for Progress in 2017, following his involvement with the March for Science in Lisbon, Portugal. His main goal is for society and governments to make good choices regarding policies that concern academia, or are more generally informed by science. To achieve this, he wants to support science communication projects and efforts to improve academia, and inform the public about policy-relevant science.
Dennis is also still passionate about neuroethology, the neuroscience of natural animal behaviors.
During his week on @sfprocur, Dennis will talk about Science for Progress, his experience as a researcher, and his work in podcasting and web video creation.
background
Dennis grew up in a village right between the cities of Cologne and Düsseldorf, not far from the Dutch border in Germany. His parents, both musicians, supported his "free thinking" and urge to explore rather than be taught from early age. He grew up bilingual, with his Mexican mother and grandmother speaking English at home, while his father spoke German.
He decided that science would be his career when he learned about pre-history and evolution from books he "discovered" around the house. This is how he became the first 8-year-old in his class to successfully pronounce "Paläontologie".
Underwhelmed by the school curriculum Dennis spent his childhood and teenage years passionately exploring multiple hobbies simultaneously. From creating fantasy role-play gaming adventures and whole fantasy worlds, to getting a brown belt in martial arts, from studying eastern philosophers to partying in heavy metal discos, from drawing and painting to playing musical instruments; anything but school stuff. It's a miracle Dennis made it through high school.
Following high school and a year with the Red Cross (substitute for mandatory military service), Dennis began to study Biology at Phillipps University in Marburg. The transition was hard: university life did not leave much time for all his hobbies. Still, he managed to teach himself some basic webdesign and web-programming in his spare time. He transferred to the University of Cologne and got really into neuroscience. Dennis chose neuroscience because of its intellectual challenges and the variety of skills that he was able to learn and apply in this field.
He continued to complete a PhD in neuroethology at Bielefeld University, and two postdoctoral fellowships: the first at Cold Spring Harbor Laboratory (USA), and the second at Champalimaud Research (Portugal).
---