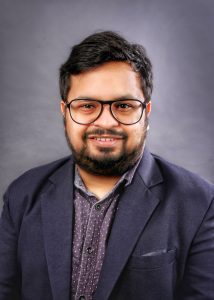 Dr. Chinmaya Sadangi is a postdoctoral researcher at the University of Toronto. He further is an ambassador for the open access journal "elife", community leader at the Society for Neuroscience, and an early career research adviser at the open access journal "BioTechniques".
As a science communicator, Chinmaya does not only want to inform non-scientists about science, but to create awareness for how scientists use public funding. Since 2018, Chinmaya runs "The Addictive Brain". On the website where you will find jargon-free explanations of complex science phenomena, techniques, and principles, presented by scientists inside and outside academia. These contributions to "The Addictive Brain" can take many shapes. From articles and short post, to art, and videos – or by a live question and answer session. Chinmaya also hopes that his project will encourage young students, women and underrepresented minorities to study STEM subjects.
During his curation, Chinmaya wants to talk about his project Addictive Brain, science communication, his research in neuroscience, and new research techniques.
background
Originally from New Delhi, India, Chinmaya received his undergraduate degree from Pune University. His initial interest was in cancer but after attending a course in Neuroscience, he fell in love with the subject and there was no looking back.
Following his graduation, he moved to Uppsala University, Sweden, where he studied stress and aggressive behavior in rainbow trouts for his MSc. He then worked as research assistant at Charite Medical University, Germany & Innsbruck Medical University, Austria to gain more experience. There, he worked on rodents as a model organism.
These positions helped him prepare for his doctoral degree, which he was awarded by the Philipps University of Marburg, Germany, in 2017. His thesis was about the role of certain proteins in epilepsy.
Outside of science, he loves traveling around the globe, exploring new countries/cultures, photography, and spending time with his family and his pet dog, Coffee.