In parallel to my podcast, I make extended – more raw – versions available to my supporters on Patreon. After a while, I open these episodes to the public.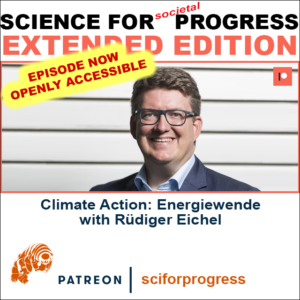 This time, I open my conversation with Dr. Rüdiger Eichel, who is a professor at RWTH Aachen – a renowned technical university – and director of the Institute for Energy and Climate Research at the Research Center Jülich. It is part of the Helmholtz Association of Research Institutes, which was granted 6,4 Billion Euros by the German government for 2018-2022. This funding is in addition to another 1.04 Billion Germany invested in energy technology research.
These investments are part of the "Energiewende", the German project to ramp up renewable energy production to, at some point, completely replace fossil fuels and nuclear power at the same time. Critics say the plans would be too ambitious, but Rüdiger Eichel seems to be convinced that it's doable… if the public is willing to do what necessarily comes with it: a change in lifestyle.