Podcast: Play in new window | Download (Duration: 26:23 — 12.1MB)
Subscribe: Google Podcasts | RSS | More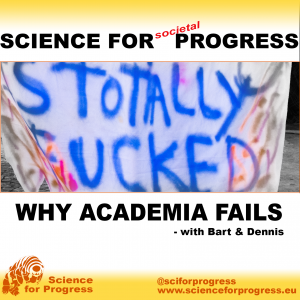 The main topic for this episode is Why Academia Fails… or better, what we may learn from the book "Why Nations Fail" (Acemoglu & Robinson) about the shortcomings of academia. But before we get to it, we will talk briefly about what happened over the last month – most importantly, I will give you my report on the Global Climate Strike as I experienced it in Lisbon, on September 27th.
This episode is special, in the sense that we decided to make it a 2-Part episode. In this first part we basically set up the background information, and in the November talk episode, we will have a proper, structured discussion.
And you have the chance to contribute! If you have read the book "How Nations Fail", or are for other reasons familiar with the concepts of extracting and inclusive institutions, give us your feedback on how this could be applied to academia!
As always, the episode begins with some small talk. Dennis – and thus Science for Progress – moved from Portugal to Germany. Bart has some good news in terms of publications!
Dennis also reports from his experience at the Global Climate Strike in Lisbon, Portugal. He talks about what he felt, about the involved parties, etc. He actually took a lot of pictures that you can see on our social media accounts: Facebook, Instagram, and Twitter!
In the main part, then, Bart talks about the book "How Nations Fail" (not sponsored), which he recently read. He explains what "extracting" and "including" institutions are, and how the concept fits to academia.