Podcast: Play in new window | Download (Duration: 40:58 — 19.9MB)
Subscribe: Google Podcasts | RSS | More
Once a month Bart Geurten and I talk about current topics in the Bart and Dennis ("B&D") series. This time we talk about the success of the Greens in the EU parliament elections, homeopathy, and postdocs.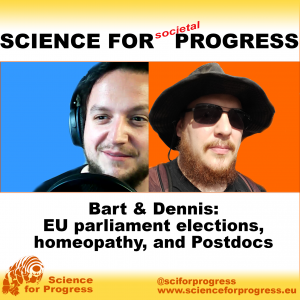 Announcement
And we have a big announcement: On July 7th we will do a live episode on YouTube! For the show we want to play a little game. And for this to work, we need you cooperation! Send us your weirdest/funniest parascience or pseudoscience stories or soundbites! You can support either Bart or Dennis by sending your story to bart@scienceforprorgess.eu, or dennis@scienceforprogress.eu, respectively. We will randomly select a winner from all entries, who will get a free t-shirt form our merchandise store!
The Greens
In the recent EU parliament elections, Bart voted for the Green party. And overall, the Greens have gained a lot of seats. This is mostly because of the increased awareness for climate action in the population. But are the Greens a good option for evidence based policies in general?
Our own experience is with the Green party in Germany, so apologies for the German-centered politics discussion. If you aren't from Germany, please let us know what you think by getting in contact (see box for contacts)! We'd really like to hear other takes on this from other countries!
Homeopathy
We then talk about homeopathy. I recently wrote a short post on a current issue, where a German pharmaceutical company is trying to silence a homeopathy critic in Germany.
Postdocs
And finally we look back at the last episode on the conditions for postdocs we discussed in the last episode with Gary McDowell. We compare what "Future of Research" found with our own experiences and expectations as postdocs.
further readings
A quiet revolution sweeps Europe as Greens become a political force
Pharma Company Admonishes Homeopathy Critics in Germany
27 Precarious Postdocs. A Future for Research? – with Gary McDowell