Podcast: Play in new window | Download (Duration: 45:37 — 20.9MB)
Subscribe: Google Podcasts | RSS | More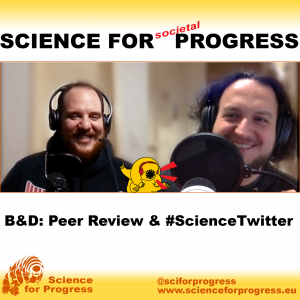 In this episode we talk about our experience with peer review and the importance of kindness and the advantages and disadvantages of the authors knowing the identity of peer reviewers. And in the second part we talk about how twitter can be a great place for science and scientists!
Peer Review
Peer review can be a pretty tense process. We talk about how misunderstandings can lead to very negative reviews, and how authors a prone to take critique personally. As a reviewer Bart suggests to use the "shit sandwich" approach, where you "sandwich" bad news between positive remarks. In addition we both feel that it is better to always give authors the benefit of the doubt. So we would clearly point out parts in the text that appear unclear, or ambiguous. This gives the authors the chance to clarify possibly crucial misunderstandings.
Bart further explains why he prefers to let the authors know that it is him who wrote the review, if the journal provides this option. This is a strongly disputed position. Especially young researchers may fear career breaking retaliation from authors with influential positions in the field.
Science Twitter
Our twitter rotating curation account @sfprocur has had its anniversary on March 13! In this context Bart and I talk about "science twitter", the growing (loosely defined) community of scientists that communicate on the social media platform Twitter. Overall we find that Twitter offers a great opportunity to talk about science with professionals and lay people. It's like the great "water cooler" at which scientists gather to talk about a great variety of topics.
Do you have questions, comments or suggestion? Email info@scienceforprogress.eu, write us on facebook or twitter, or leave us a video message on Skype for dennis.eckmeier.
sources: • Bart's latest paper: Correcting locomotion dependent observation biases in thermal preference of Drosophila
• Bart on Twitter
• Dennis on Twitter
• Susan on Twitter (@sfprocur co-admin)
• Science for Progress Rotating Curation Account
• Science for Progress on Twitter