Podcast: Play in new window | Download (Duration: 27:23 — 12.5MB)
Subscribe: Google Podcasts | RSS | More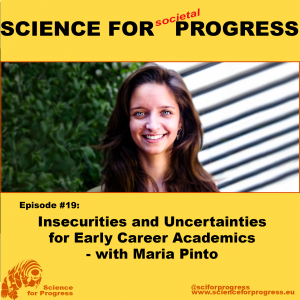 Academics are Spoiled. Right?
The stereotype of academics is that they live a well protected life in the ivory tower. But this is not the case for most of them. Maria Pinto from Portugal is a PhD student in marine microbiology in Austria. With the final stages of her work approaching, Maria is beginning to think about the future.
Forgoing Salaries, Benefits, and Life Planning Security in your Late 20s to 40s.
We talk about the many uncertainties in academia, particularly for early career researchers. In general the salaries are not good, but in poorer countries, where the salaries are particularly low and may not even include social security, there is also an expectation of students to pay field work trips themselves. In general, traveling in order to present your work at conferences is important to researchers and their careers, but for many, this is not affordable.
PhD students and postdocs are in the typical age for founding families. The academic career, however, demands mobility. For many this means that they need to move countries several times – a factor that greatly affects life planning security negatively.
And all of this is happening in a climate of increasing PhD graduations and stagnating long-term or permanent job openings.
Yet, leaving academia is often discouraged. Among early career academics and their advisers it's simply expected to try hard for an academic career. This often means that PhDs think about a possible transition outside of academia very late. And then there is always the gnawing question: Do I have any value on the private market?
We don't have an answer to the problems we highlight, but maybe we can work a little bit against the stereotype of the spoiled academic. And maybe we can push some early career researchers to think about plan B, earlier.
Do you have questions, comments or suggestion? Email info@scienceforprogress.eu, write us on facebook or twitter, or leave us a video message on Skype for dennis.eckmeier.
sources: • Oceans for All – promotes ocean science and ocean science communication
• YouTube Channel "Sea&me – Marine stuff with Maria"
• The Stagnating Job Market for Young Scientists
• Why a postdoc might not advance your career
• These studies offer a realistic view of postdoc life—and guidance for making career decisions that work for you
• How Ph.D.s Romanticize the 'Regular' Job Market